Customer
Testimonials
Kyle Leeper did a great job in selling my boat. He took his time and worked well for me the seller, and I think he also worked well for the buyer as well. It went very smooth from start to finish. I hope we can work with him again.
Kyle Leeper and the whole staff at NYB are fantastic. Always a pleasure to do business with them. Thank you Kyle! We love, Love, Love our boat... professionalism and accuracy are a premium. Continued success.
For me this was a great experience working with Kyle and the team. I really counted on Kyle, as I was initially dealing with this transaction from out of state. Kyle gave me great advice the entire way. His resource list is exceptional, everything from surveyor's to haul out services. NYB made this deal a fantastic experience. When I asked for any documentation from the previous owner it was usually within 24 hours for an answer from NYB. I will definitely use Kyle in the future.
Kyle Leeper has a true passion for the marine industry and an endless amount of energy when pursuing or selling a boat. He provides a professional approach to any situation, clear communication with his clients and is a competent voice of reason. I would have no hesitation in recommending Kyle to anyone wanting to buy or sell a boat.
Kyle is AWESOME!! Kyle spent many hours getting to know my wife and I so he could get us the exact boat we were looking for. He must of answered a thousand of my questions. Didn't matter the subject, he had the answer.

We had no idea how much was involved buying a brokered boat. Kyle was our sheild and it was nice having him in our corner.

We are the new proud owners of a Sea Ray 380!!

Thank You Kyle and NYB!!
Thanks to Kyle Leeper we were able to get out boat sold! He's a great guy to work with and would do it again, thanks again NYB and Kyle Leeper!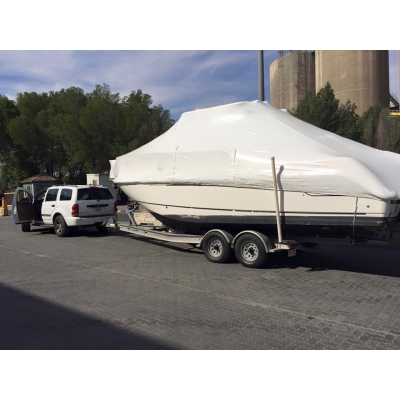 I bought a Boston Whaler from Nashville Yacht Brokers and dealt all the way with Tyler Benson. Dealing and buying other boats from other dealers no one would even come close to the professionalism, enthusiasm and positive spirit I have seen with Tyler Benson. A big thank you and all the best. THUMBS UP!
Kyle, was my boat broker (47 Sea Ray Sedan Bridge) he was very professional, and got TOP Dollar for my boat. It sold with in less than a month of listing. He found one of the greatest buyer's out there. Selling the boat was a pleasure due to Kyle's advice and boating knowledge. I will use Nashville Yacht Brokers (Kyle) in my future boat purchases.
Tyler's professionalism, diligence in getting the job done, attention to detail and never ending service to the customer made our experience with the Nashville Yacht Brokers a very good one. Highly recommend anyone in the hunt for a boat consider these experts. Mike & Sandy will now enjoy their time out on The Lake much more with the recent addition. THANK YOU TYLER & DAVE. Your dedication is sincerely and greatly appreciated. Oooops the new baby is calling us, see you out on the water!!!!!
Best boat broker ever!! Kyle has worked with me on 3 boat deals at this point. He's one of the most professional brokers I have ever dealt with. Kyle makes buy and selling boats a little easier.
Nothing but a great guy..